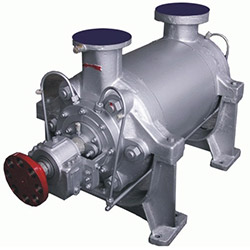 It is intended for the water supply of thermal fossil-fueled power plants' stationary steam boilers (PE 90-180 and PE 90-110 – for feed water supply in steam-generating installation used for development of oil fields).
Centrifugal, horizontal, multistage pump with single-entry impellers, single-casing or double-casing with sectional embedded casting electric motor-driven. Rotor support is plain bearing with bath or force lubrication.
Shaft gland or face seals.
The pumps with nominal capacities: 380 and 580 m3/h can be operated with and without hydraulic clutch; 600 m3/h – only with hydraulic clutch; 780 m3/h – with hydraulic clutch, complete of this equipment with synchronic variable frequency drive.
| | | | | |
| --- | --- | --- | --- | --- |
| Pump model | Feed m3/h | Pressure, m | Rotation speed, rev/min | Motor output, kW |
| PE 65-28 | 65 | 290 | 2940 | 110 |
| PE 65-40 | 65 | 440 | 2960 | 132 |
| PE 65-53 | 65 | 580 | 2965 | 200 |
| PE 90-110 | 90 | 1100 | 2970 | 500 |
| PE 90-180 | 90 | 1900 | 2979 | 800 |
| PE 100-32 | 100 | 330 | 2960 | 160 |
| PE 100-53 | 100 | 580 | 2980 | 315 |
| PE 145-30 | 145 | 293 | 2960 | 200 |
| PE 150-53 | 150 | 580 | 2980 | 500 |
| PE 150-63 | 150 | 700 | 2980 | 500 |
| PE 160-140 | 160 | 1400 | 2973 | 1000 |
| PE 380-185-5 | 380 | 2030 | 2975 | 3150 |
| PE 380-200-5 | 380 | 2190 | 2975 | 3150 |
| PE 580-185-5 | 580 | 2030 | 2985 | 5000 |
| PE 580-195-5 | 580 | 2150 | 2985 | 5000 |
| PE 600-300-4 | 600 | 3290 | 6300 | 8000 |
| PE 710-280 | 710 | 280 | 2980 | 800 |
| PE 780-185 | 780 | 2030 | 4500 | 6300 |