Pumps of this type are characterized by high head-capacity curves (up to 250 ml), good self-priming properties and ability to run on a gas (vapor)-liquid mixture at small capacities (3÷30 m3/h).
Types of the pumps and their main specifications are given in table 1 and graphical specifications on Fig. 2.
The pumps are intended mainly for pumping volatile and low boiling liquids (petrol, ether, solvents, liquefied hydrocarbon gases etc) and also liquids enriched with gases that later can be separated by passing the low-pressure area and enter the pump in the form of gas-liquid mixture.
The pumps are mostly produced in monoblocks and have almost the same design scheme (Fig.1).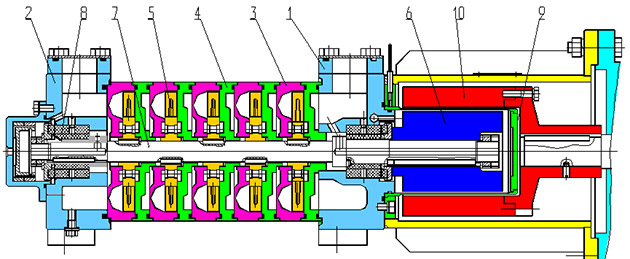 Fig. 1. Glandless peripheral pump ANSGM7,5-150
Suction housing 1, discharge housing 2, the situated between them working chambers 3 and guide apparatus 4 are tied up in one glandless block with four hold-down studs. Impellers 5 are installed in working chambers with fixed axial clearance.
Leading magnetic clutch 6 and impellers are assembled on axis 7 rotating in the plain radial-axial bearings 8. Fluid end of pump is safely isolated from the environment with steel barrel 9 through thin hydraulic shell whereof rotating moment from the leading magnetic clutch 10 is transferred to internal driven. Leading clutch is installed on electric drive motor axis.
The pumps have high self-sucking ability and can pump liquid both from underground reservoirs and from the containers situated higher or at the level of centerline of the pump.
Table 1. Glandless peripheral pump specifications
General parameters:
Pumped environment temperature: from -40 to +100ºС
Rotational frequency: 1500 c/min
Network voltage: 380V
| | | | | | |
| --- | --- | --- | --- | --- | --- |
| No | Pump model | Feed m3/h | Pressure, m | Motor output, kW | Circuit pressure kgm/cm2 |
| 1 | ANSGM5-60 | 5,0 | 60 | 4,0 | 25 |
| 2 | ANSGM5-90 | 5,0 | 90 | 5,5 | 25 |
| 3 | ANSGM5-120 | 5,0 | 120 | 7,5 | 25 |
| 4 | ANSGM5-150 | 5,0 | 150 | 7,5 | 25 |
| 5 | ANSGM7,5-90 | 7,5 | 90 | 7,5 | 40 |
| 6 | ANSGM7,5-120 | 7,5 | 120 | 11,0 | 40 |
| 7 | ANSGM7,5-150 | 7,5 | 150 | 11,0 | 40 |
| 8 | ANSGM7,5-180 | 7,5 | 180 | 15,0 | 40 |
| 9 | ANSGM12,5-100 | 12,5 | 100 | 11,0 | 40 |
| 10 | ANSGM12,5-150 | 12,5 | 150 | 15,0 | 40 |
| 11 | ANSGM20-30 | 20,0 | 30 | 7,5 | 40 |
| 12 | ANSGM20-60 | 20,0 | 60 | 11,0 | 40 |
| 13 | ANSGM20-90 | 20,0 | 90 | 15,0 | 40 |
| 14 | ANSGM30-100 | 30,0 | 100 | 22,0 | 40 |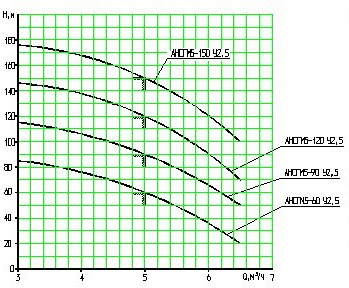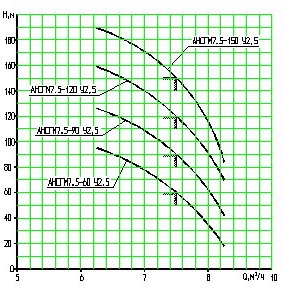 Fig. 2. Glandless peripheral pump graphical specifications